Maria B. Rodriguez, OPC Wetlands Program Manager
Maria Rodriguez grew up six miles from the ocean, which could have been a world away for a child, but a concrete bike path along Ballona Creek served as a lifeline connecting her home to the beach at Marina del Rey. "It was my place to escape to," Maria recalled, "a place to find something bigger than me." The ocean provided a sense of serenity away from any troubles that might be happening in her community and fed Maria's natural curiosity.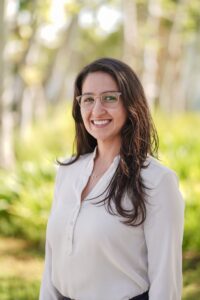 "I recognized that a whole other world existed and I wanted more than anything to know it," she said. "It fascinated me so much." Young Maria would dream that the water had become invisible, allowing her to see everything happening under the surface. She'd sit on the beach writing in her journal and even ride her bike out at night, compelled to hold the ocean in her view.
As a kid considering what a future career might entail, Maria always wanted to find connection to working with wildlife, but being a researcher didn't interest her. She considered becoming a veterinarian, but medical school seemed prohibitive. Ultimately, an interest in building community led her to gravitate toward architecture. "There's not a lot of intersection between marine biology and architecture," Maria said with a laugh, reminiscing about her career path. After a year and a half, architecture school proved too expensive, so she adjusted her plans and enrolled at Santa Monica College. There, she connected with a counselor who advised her to go into planning. Though Maria hadn't previously considered the field, it proved to be one that fostered her skills and passion, and she graduated from Cal Poly Pomona with a bachelor's of science in urban and regional planning.
"Not a lot of people understand what planning is, the micro and macro of it, and what it offers," Maria said. Planning provided a way for her to define what she wanted to do and how her passion for wildlife could fit into an urban system. "Most planning is focused on building for people," she said, "but our open species have a lot of water and habitat. I wanted to be that planner that did consider ecological spaces, who thought about how development patterns encroach on our natural spaces." 
Maria saw a need for a more holistic approach to development, especially in L.A., a place bordered by an ocean and surrounded by mountains. "Our mountain lions are dying, habitats are fragmented – people don't think about the harms created by reservoirs and what fragmentation means to wildlife," she said. She landed a role as a research and analysis intern at the Southern California Association of Governments (SCAG), the nation's largest metropolitan planning organization, representing six counties, 191 cities and more than 19 million residents. At SCAG, Maria honed her GIS skills, provided resources and consulting on the California Environmental Quality Act (CEQA) and engaged in related technical work. 
After her internship, she moved into working as a full-service environmental consultant at private firms, engaging with architects, architectural historians, field biologists and other professionals. The work inspired Maria. "Working with experts on projects that had a conservation focus and using my planning expertise to guide them – this is work I wanted to continue doing," she said. For her capstone research she had looked at land-use suitability through the eyes of different stakeholders to figure out what made sense when considering development. She wanted to apply the policy knowledge she'd gained. A romantic relationship brought her to Sacramento and Maria began looking at employment opportunities in state government. 
"I applied to a bunch of jobs," Maria recounted, "and lo and behold, OPC called." Her hard work and success over the years had led to an opportunity for her to bring her deep connection with the ocean into her professional life and apply her understanding of holistic planning and ecological purposes in a new, more enriching way. She'd found her purpose – and more. The OPC job came with a chance to elevate environmental justice into various projects funded by the Council. "It's unique, what we do, building community into restoration projects and figuring out how we get everyone to live cohesively with these ecological systems," she said. While Maria doesn't often work directly with California Tribes, she has embraced opportunities to learn more about the state's indigenous history. 
"Despite a legacy of erasure, we've been able to talk about and expose the truth of California's heritage and culture – that we're not just all Anglo-Saxon. California is diverse, but most of us here are not in touch with our own history," she said. "Through our projects, we can bring up messages about the land, the stewardship behind that land and how we can get to a better place," she continued. "I never thought I'd be able to do that. I love that, in this role, I'm learning everything that I wish I'd learned before – and get to do that with our staff and the public, which is incredible."
Maria's parents are likewise amazed by the work she's doing. "I'm the daughter of immigrants and have always looked up to my dad, how hard he's worked," she said. "The reason I'm here is to make something of myself."
These days, Maria doesn't need to dream to imagine what's happening under the ocean's surface – she's spending her days highlighting the relationships between that world and the terrestrial experience we all share, and how they inform the stories that have been waiting to be told.