California's efforts to protect and restore kelp featured in new restoration guidebook and global review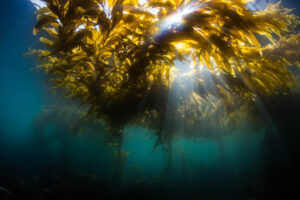 A unique kelp restoration pilot project on California's north coast has been featured in The Nature Conservancy's new Kelp Restoration Guidebook. This guidebook was authored by an expert panel with support from managers, scientists, and restoration practitioners. It highlights kelp loss as a global, climate-driven phenomenon and offers lessons learned from kelp restoration efforts around the world – including California, which is emerging as a leader in this space thanks to effective and unprecedented partnerships between state agencies, nonprofits, and local communities.
From 2014-2019, California's north coast was devastated by unprecedented declines in bull kelp. Declines have been attributed to a perfect storm of changing ocean conditions, including persistent warm waters, the emergence of sea star wasting disease (which resulted in a loss of an estimated 5.75 billion predatory sunflower stars), and an explosion in kelp-eating purple sea urchin populations, which have grazed kelp forests down to bare rock and turned once-lush reefs into "urchin barrens." In 2020, OPC partnered with the California Department of Fish and Wildlife, Reef Check California, Noyo Center for Marine Science, and commercial fishermen to remove purple urchin in support of kelp restoration at two sites in Mendocino County. Despite challenges posed by the COVID-19 pandemic, fishermen were able to remove nearly 50,000 lbs of urchin from these sites over the course of two years, successfully reducing urchin densities below 2 individuals per square meter (the threshold expected to facilitate a shift from urchin barren back to kelp forest) and maintaining these low densities over the duration of the study. Scientific monitoring has documented a limited, but statistically significant increase in kelp density at one of the restoration sites, Noyo Bay – a response that was stronger than the larger-scale resurgence of kelp observed across the region in 2021. Results from this project will be publicly available in the coming weeks.
The restoration guidebook notes that the partnership-based nature of this effort, as well as the strong financial and institutional support provided by the state (including over $600,000 in funding from OPC and significant in-kind support from the California Department of Fish and Wildlife) have been essential to its success. Communication among resource managers, fishermen, scientists, nonprofits and the local community enabled adaptive management throughout the course of the project and built trust. Such collaboration was made possible by the willingness of each of these project participants to share unique expertise in support of shared goals: restoring our state's iconic kelp forests and supporting thriving coastal communities.
The north coast pilot restoration project was also featured in a recent global review of kelp restoration efforts, authored by researchers from the University of New South Wales and published in Biological Reviews earlier this month. This paper synthesizes 259 restoration attempts from 1957-2020 – a monumental undertaking! – and notes that California has provided critical financial, regulatory, and institutional support for this project and other efforts. The paper cites OPC's Interim Action Plan for Protecting and Restoring California's Kelp Forests extensively and echoes that document's call for proactive, climate-ready strategies for kelp forest management in the face of changing ocean conditions.
These publications make it abundantly clear: California is on the front lines of kelp restoration. By enlisting local communities, investing in solutions-oriented science, and developing long-term strategies for kelp monitoring, protection, and restoration, we are doing our part in the fight to ready these majestic yet vulnerable ecosystems for climate change. OPC looks forward to continuing our engagement with the global kelp forest restoration community to share best practices and lessons learned.