California Releases Visionary Roadmap to Conserve 30 Percent of Lands and Coastal Waters by 2030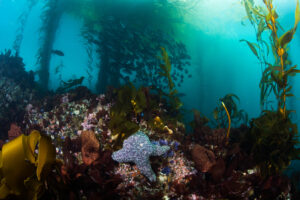 Today, in celebration of Earth Day, California released a groundbreaking document detailing the state's approach to conserving 30 percent of our lands and coastal waters by 2030. In the face of a rapidly changing climate and unprecedented threats – year after year of extreme wildfire, the longest and most severe drought in our state's history, the decimation of kelp forests along our northern coastline – Pathways to 30×30: Accelerating Conservation of California's Nature provides strategies and opportunities for protecting biodiversity, fighting climate change, and enhancing access to nature for all Californians. It also makes California the first place in the world to set forth an actionable roadmap for achieving the ambitious "30×30" global target.
OPC has been honored to coordinate closely with California Natural Resources Agency leadership on the coastal and ocean components of Pathways to 30×30. Currently, the state estimates that 16% of coastal waters are conserved. Moving forward, OPC will be working with California Native American tribes, the research community, other state and federal agencies, and coastal stakeholders – including environmental organizations and fishing communities – to conserve an additional half a million acres of coastal waters by implementing science-based protections that address the most serious threats to coastal and ocean biodiversity.
Pathways to 30×30 is more than a policy document. For OPC, it is a call to action that inspires us in the face of daunting challenges. Meeting the 30×30 target will help us realize our vision for the future: a California where our iconic marine habitats and species are safeguarded in perpetuity, where our coastal communities and local fisheries are thriving, and where people of all backgrounds can enjoy a healthy coast and ocean. We look forward to the work ahead.
Photo credit: Michael Langhans