Prop 68 Climate Resilience Miniseries Episode 7: Planning Regional Coastal Resiliency for California State Parks
(Intro to the series here)
"This project provides an opportunity for all Californians to have a say in what the California coast of the future will look like." – Michelle Succow
Today we are talking about a Prop 68 Project to develop a template for how coastal state parks should assess sea-level rise vulnerability and how to plan and adapt to site-specific impacts. The team at State Parks decided to pilot this work in the San Diego District, given the diversity of coastal habitats and land uses in the region.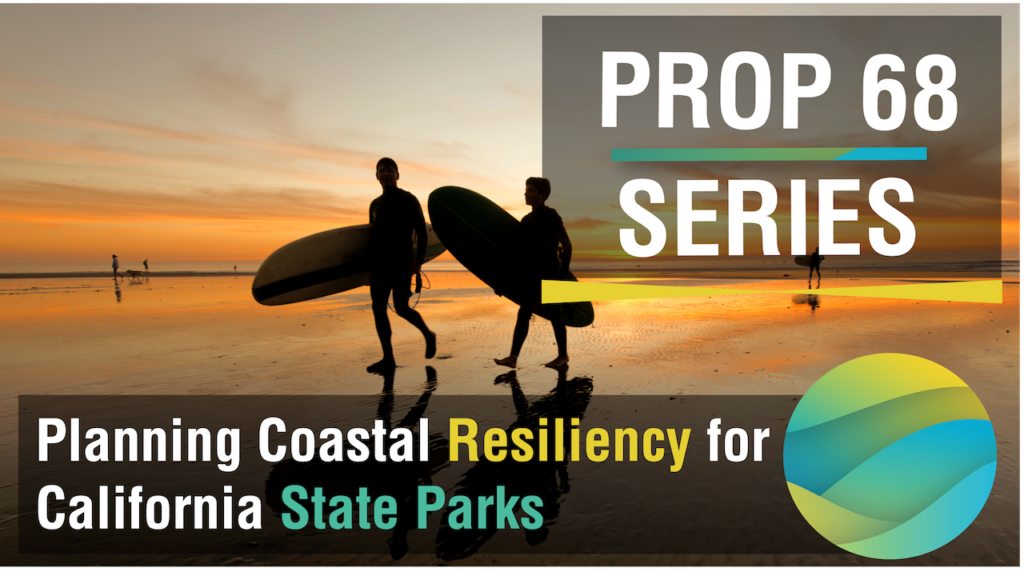 California State Parks manages nearly 25 percent of the California coastline, with 128 coastal units. This presents an incredible opportunity for State Parks to lead the state in moving forward on sea-level rise planning and adaptation. "Coastal units in the State Park system are already experiencing impacts caused by severe erosion and flooding and we anticipate that those impacts are going to increase as sea levels rise and so having a consistent and statewide approach for how State Parks can assess those vulnerabilities, is really important," notes Michelle Succow, one of the leading members of the Project Team. This project will establish that statewide approach to vulnerability assessments across State Park units and develop a roadmap for how the identified vulnerabilities can be addressed through planning and adaptive measures. Earlier this year, State Parks released their Sea Level Rise Adaptation Strategy and this project advances many of the goals identified in the Strategy.
"We're already learning a lot with this project about how to integrate State Parks' multiple resource types and functions – Planning, Facilities, Natural Resources, Cultural Resources, and Interpretation and Education – into science-based adaptation planning," says Marina Cazorla, Coastal Programs Manager at State Parks' Natural Resources Division. "We're so glad to be working proactively to address present and future risks, and investing in planning now will reduce future costs." 
"Government-to-government coordination with Tribes as well as robust engagement with local communities and other stakeholders is a key component of this project," says Succow. Urgent action is needed now in order to protect California's iconic vistas, beaches, and public access. "Coastal Quest is really excited to be helping State Parks think about and understand what's at risk and how to start planning for solutions so that we can sustain and protect our beautiful coast for all the California residents and visitors to enjoy," adds Tegan Hoffmann, Project Director of this Prop 68 work. This collaborative project will create a template for all coastal State Parks, which together comprise almost a quarter of the State's coastline, to begin assessing and planning for sea-level rise. By carefully documenting every step in the pilot process, from data acquisition to outreach approaches and opportunities, the project team will ensure that this template and resulting toolkit of guiding documents are transferable across California's diverse coastal park units.
With the recent release of the IPCC Report, it is now clear that our past and current actions are driving climate change impacts, including sea-level rise. By focusing on solutions and pathways for adaptation, this project is helping move California's State Parks to become increasingly more resilient to rising seas. 
To learn more about this project, check out this video!
To sign-up for information and announcements about the project in the future click here –  Resilient California State Parks, San Diego Coast District Pilot – Coastal Quest (coastal-quest.org)

Resources: 
State Parks Sea Level Rise Strategy
California Department of Parks and Recreation Sea Level Rise Fact Sheet
California State Parks Website
Credits: 
Video Production, Editing, and Narration: Kat Beheshti
Drone footage: California State Parks
Photos: California State Parks, Michelle Succow
Video Thumbnail Photo: California State Parks
Video Footage: Kat Beheshti, Oceane Ringuette
About Michelle Succow: Michelle is a Coastal Environmental Scientist with California State Parks. She received a master's degree in biology from Humboldt State University in 2017 and started at State Parks as a California Sea Grant State Fellow in 2018. 
About Marina Cazorla: Marina is a Senior Environmental Scientist Supervisor and Coastal Programs Manager at California State Parks. Marina has more than twenty years of experience working on coastal and ocean issues in state government and environmental philanthropy and has a master's degree from Harvard Kennedy School.
About Dr. Tegan Hoffmann: Tegan is the Executive Director of Coastal Quest and has more than 25 years of experience working on domestic and international projects, focusing on building climate resilience, and achieving sustainable Coastal and ocean resource management and conservation goals for people and nature. Tegan graduated from the University of California, Berkeley, and holds Ph.D. and master's degrees in geography and a B.S. degree in conservation resource studies.
About the Author: Dr. Kathryn Beheshti is a 2021 California Sea Grant State Fellow with the Ocean Protection Council's Climate Change Program. Kat's own research focuses on understanding the drivers of loss and recovery of key coastal foundation species (e.g. salt marsh plants and seagrasses). Kat is committed to making science accessible to individuals of all ages and demographics. She hosts her own science communication platform, sloughit.com and participates in an interdisciplinary science communication team at SciAll.org, where she is a Lead Vlogger.