Stanley Mosk Library and Courts Building, 914 Capitol Mall, Room 500, Sacramento, California
A workshop to learn from partners and chart a path forward for effective MPA management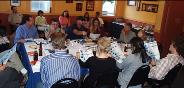 Fourteen Collaboratives associated with different areas of the coast and made up of a broad range of citizens from different ocean user groups are supporting effective MPA network management. This workshop brings together Collaborative leaders for two half-days of learning and sharing with agency representatives from the Department of Fish and Wildlife, the Fish and Game Commission, the Department of Parks and Recreation and the Ocean Protection Council (OPC).
"This workshop will bring together local and state leadership to set a course for how we want to work together." – Cat Kuhlman Executive Director OPC

If you have any questions or to RSVP, please contact Calla Allison, Director, MPA Collaborative Implementation Project, calla.allison@resources.ca.gov  (858) 735-5945
Room meeting capacity has been met as of 11/12/14*
For non-attendees please join the OPC e-mail list server at https://listservice.cnra.ca.gov/scripts/wa.exe?SUBED1=CNRA_OCEANS_PUBLIC&A=1 to ensure you receive post–meeting materials.