Prop 68 Funding
The Ocean Protection Council (OPC) adopted the Proposition 68 Grant Guidelines (Grant Guidelines) at their May 23, 2019 meeting. At the meeting, OPC decided to postpone releasing solicitations for projects under Prop 68 until the OPC Draft Strategic Plan is final. Please join the OPC email listserv to receive future solicitation announcements.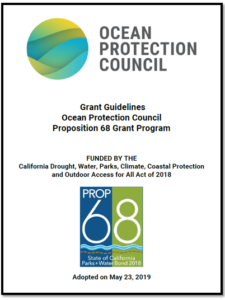 Funds from Prop 68 will be used to support the priorities of all of the OPC's program areas for the next several years. The Grant Guidelines provide an overview of the purpose of Prop 68 funds, which projects and applicants will be eligible to receive funds, the OPC's competitive and discretionary grant programs, proposed scoring criteria to assess projects, and requirements for future grantees.
OPC staff provided the Draft Grant Guidelines for public comment in January and February 2019. During the public comment period, OPC staff held workshops in Oakland, San Diego, Eureka, Salinas, and Santa Monica – in addition to an online webinar – to present the Draft Grant Guidelines to the public and receive comments. The presentation slides from the workshops and webinar are available here, and the comment period closed on February 28, 2019.
The Grant Guidelines were revised based on the comments received during the public comment period, and were adopted by the Ocean Protection Council at their May 23, 2019 meeting. For information on the Grant Guidelines adoption, including the staff recommendation and comments received on the draft grant guidelines, please see item 5 on the OPC meeting page.
Questions about the Prop 68 Grant Guidelines may be submitted to Prop68@resources.ca.gov.
Web Resources
The Grant Guidelines refer to several web resources that applicants should use as they prepare their project proposals. These web resources are provided below.