Once-Through Cooling Interim Mitigation Program
Important Upcoming Events
July 30 – September 14:
Public comment period for draft 2018 OTC Grant Guidelines
October 25:
Grant Guidelines presented to Ocean Protection Council for approval
October 26 – December 14:
Call for Proposals (pending Council approval of Grant Guidelines)
February 13, 2019:
Select proposals recommended to Ocean Protection Council for approval
Background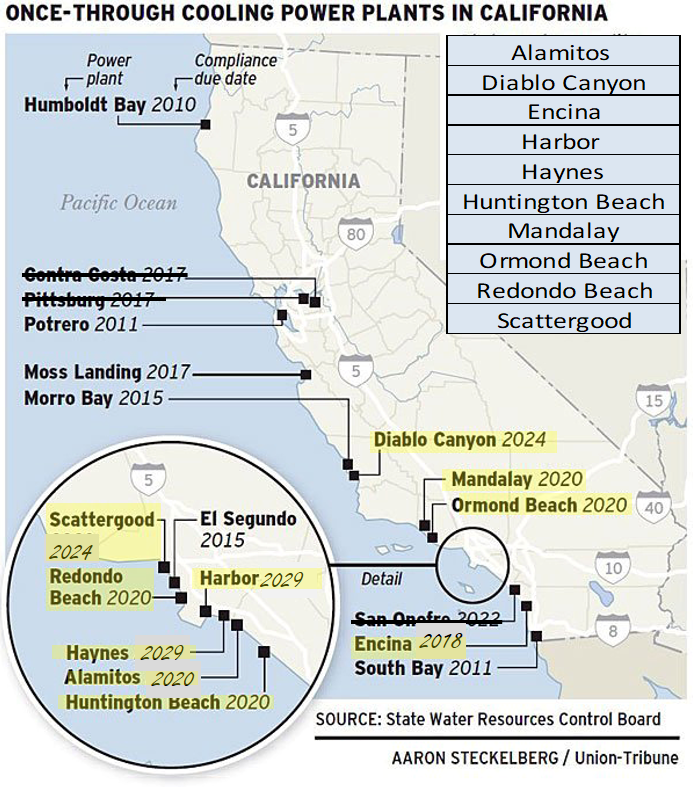 California's Once-Through Cooling Policy (Policy) was adopted by the State Water Resources Control Board (SWRCB) in 2010 and amended in 2011, 2013, and 2016. The Policy establishes technology-based standards to implement federal Clean Water Act section 316(b) and reduce the harmful effects associated with cooling water intake structures on marine and estuarine life. The Policy originally applied to 19 coastal power plants (including two nuclear plants) that had the ability to withdraw over 15 billion gallons per day from the State's coastal and estuarine waters using a single-pass system, also known as once-through cooling (OTC). Closed-cycle wet cooling has been selected as Best Technology Available and permittees must either reduce intake flow and velocity (Track 1) or reduce impacts to aquatic life comparably by other means (Track 2). The policy requires power plants that are not in compliance to make payments annually based on their annual intake volumes of water until they come into compliance. To ensure grid reliability, final compliance dates were negotiated with each of the plants listed on the map after the name of each power plant (right). Through closures of older plants, denoted by strike-through on the map, and retrofits to come into compliance prior to the payment program beginning, there are now 10 power plants that will be making payments until they come into compliance (highlighted in yellow).
The policy gives a clear directive that fees received through this program will support "mitigation projects directed toward increases in marine life associated with states marine protected areas in the geographic region of the facility". To further implement the Policy and build out the OTC Interim Mitigation Program, OPC entered into a Memorandum of Understanding with the State Water Resources Control Board that allocates $5.4 million of the annual payments to mitigate the impacts of OTC on state marine protected areas. The allotment amount was based on an interagency budget analysis conducted by the MPA Statewide Leadership Team of costs associated with the MPA Management Program that have a direct nexus with OTC impacts.
For more information on the impacts of OTC and how the MPA Management Program is linked to the OTC Interim Mitigation Program, click HERE.
Contact
Tova Handelman
Marine Protected Areas Program Manager
tova.handelman@resources.ca.gov