Ocean Observations and Mapping
Research and Monitoring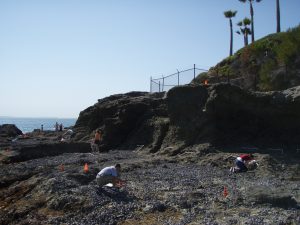 Research and Monitoring
Solving complex ocean resource problems will require a better scientific understanding of the underlying functioning of ocean and coastal ecosystems. The Ocean Protection Council seeks to establish policies that coordinate the collection and sharing of scientific data related to coast and ocean resources between agencies. The issues facing the ocean are multifaceted and partnerships are necessary to address these concerns. Under this strategic goal, OPC aims to improve the scientific understanding of our ocean resources and monitor the ocean environment to provide data about conditions and trends. By 2011, OPC would like for the state to have sufficient scientific understanding of biological, physical, and socio-economic processes in order to implement ecosystem based management statewide. OPC would also like to have consistent monitoring data accessible to resource managers and the public by 2011.
Objectives of Research and Monitoring Section of the 2006 - 2011 OPC strategic plan:
Objective 1: Research
Science should be the foundation of ocean and coastal policy, but often it is not.  Sometimes this is because research and monitoring activities are under-funded and other times it is because results are not communicated effectively to decision makers and the public.  To begin to remedy these gaps in knowledge or application, the OPC works with the Ocean Science Trust, the OPC Science Advisory Team, the two California-based Sea Grant programs, and many other partners to identify high priority research needs. The OPC includes research as a part of its funding strategy and seeks federal support for the state's research needs. Another OPC research effort is to make California's ocean observing system a national model.
Objective 2: Monitoring
Changes in ocean and coastal ecosystems can only be measured if sufficient baseline information is available. Increased and improved monitoring through data acquisition and analysis will provide that  critical knowledge. They also provide metrics to assess effectiveness of management measures. In order to achieve this goal, OPC recognizes the need to create state-sponsored ocean observing programs that will work with the federal Integrated Ocean Observing System (IOOS), the Regional Associations (RAs) and other entities to build an integrated ocean observing system in California. OPC is also in a partnership to complete seafloor maps of state waters, which will provide information on marine habitats and substrates. These maps are critical to effective management of fisheries, design of marine protected areas, and other management efforts.  The OPC is also partnering to complete topographic maps of the California coastal region to aid in better land-sea research, such as climate change or tsunami impacts.  Also, OPC is supporting the development of a comprehensive monitoring program focused on developing and delivering cost effective and useful monitoring data essential for ensuring the long-term adaptive management of the new statewide system of marine protected areas (MPAs).
Initiatives and Funded Projects:
Fisheries
Monitoring and Assessment
Mapping
Ocean Science Trust
California Sea Grant Research Programs
Mapping California's Seafloor
UPDATE August 2012 - 
The first set of formal map products from the California Seafloor Mapping Program are now available on the
United States Geological Survey website
.  This first map set covers Hueneme Canyon and vicinity, and includes 12 map sheets displaying seafloor characteristics, an explanatory pamphlet, and a data catalog of GIS files.  More information on map product development is available on and on the
USGS project page
, which includes a spreadsheet that documents works accomplished. The ocean is a vital part of life in California, intimately affecting the lives of all Californians. The oceans are drivers of weather systems and of climate; they are highways for marine commerce and a major reservoir of natural resources; they hold potential for energy development, and are a buffer for national security, yet we know more about the surface of the moon than we do about the seafloor. It has only been in the past few years that
technology
has advanced to the point where we can accurately and efficiently determine the shape of the seafloor over large areas. The OPC has assembled a team of experts from state and federal agencies, academia, and private industry to develop the best approach to mapping and classifying estuarine and  marine geologic and benthic habitats, while at the same time updating all nautical charts. Initiated in 2007, the California Seafloor Mapping Project (CSMP) is collecting bathymetry (underwater topography) and backscatter data (providing insight into the geologic makeup of the seafloor) that will be turned into benthic habitat and geologic base maps for all of California's state waters from the mean high water line out to 3 nautical miles. The CSMP will have many uses beyond its original goal of supporting the design and monitoring of marine reserves. Accurate statewide mapping of the seafloor will also:
Improve climate change and ocean circulation models
Help evaluate the potential for ocean energy
Improve our understanding of ecosystem dynamics
Identify submerged faults and improve our understanding of tsunami potential
Enable more effective regulation of offshore develpment
Improve maritime safety
Improve our understanding of sediment transport and sand delivery
[caption id="" align="aligncenter" width="502"]
This is an example of corrections to a nautical chart that are possible now that there is more detailed information about the seafloor. In blue are the original published depth soundings, some dating back to the 1800s. In red are the newly discovered depths. In partnership with NOAA, the CSMP will facilitate the updating of navigation charts with new digital, modern data. The resulting maps will provide better information on dangers to navigation.[/caption]
When the CSMP began, less than a third of California's submerged lands had been mapped in sufficient enough detail to distinguish benthic habitats and geologic features. Using a variety of state of the art mapping technologies including digital multibeam and sidescan sonar systems, the CSMP team is now collecting the remaining hydrographic data, groundtruthing the sonar data using video cameras, and translating the results into a suite of maps that will be provided to resource managers and the public in a variety of formats ranging from hardcopy paper maps to customizable digital maps served on the web. This data will also be combined with high resolution topographic LiDAR data along the entire California coastline. Once they are available, the complete onshore-offshore elevation maps will be critical to improving climate change modeling and mitigating the impacts of  sea level rise.
In order to truly improve ocean management in the face of a rapidly changing climate, it will be critical that we map changes in the composition of the seafloor over time. The baseline geologic and benthic habitat maps created through the CSMP will guide future research and help identify the more dynamic areas along the coast that will be vulnerable to sea level rise or storm surges, sediment transport and coastal erosion, or diminishing habitats for living marine resources. This data will continue to inform decision-makers and move us toward a more sustainable use of our ocean resources. Creating high-resolution seafloor maps along the west coast was identified as a priority in the West Coast Governor's Agreement in Ocean Health. OPC staff is working with colleagues in Oregon and Washington to create standards for mapping, share successes, and identify collaborative opportunities and regional priorities. This project is designed to employ the latest technology that enables seamless integration of information across the shoreline to capture bathymetry in the ocean, as well as imagery and elevation across the terrestrial watershed. We believe that this project will set a new standard of mapping that will pave the way for better informed decision-making in this critical region.
The California Coastal Mapping Program
The California Coastal Mapping Program is a comprehensive effort to combine seafloor mapping data with shoreline data to create seamless onshore-offshore maps of California's coastline.

The coastal area of California is diverse, ranging from towering coastal bluffs to dense urban development and rolling pastoral lands. Immediately offshore, the underwater topography is equally varied with deep canyons, seamounts, and small shelves extending from the shoreline. Accurate maps and recorded data on  are essential to ensuring the California's marine and coastal areas are understood and effectively managed.  California's coastal region is home to numerous existing and proposed activities and sea level rise and climate change impacts will change the coast as we know it. With such a myriad of interests, uses, and potential impacts, the OPC is taking a leading role to record the coastal area and ensure important geospatial data are available to resource agencies. The California Coastal Mapping Program has three major initiatives under way to achieve this objective:
The Collaborative Geospatial Data Management Project:
The CGDME was started in 2009 to identify and promote sharing of datasets needed by the numerous state agencies with coastal and ocean interests, such as the Department of Fish and Game, the California Coastal Commission, the Bay Conservation and Development Commission, the State Lands Commission, and California State Parks. Datasets from federal agencies may also be incorporated into an interactive and accessible tool or framework designed to provide relevant data to resource managers, scientists, and the public for improved decision-making. Integrating these three initiatives is a long-term goal. The topographic mapping data can be merged with the seafloor mapping data to produce a seamless onshore-offshore map that would greatly enhance the understanding and management of the coastal area. This modern high-resolution map can form the baseline map of any coastal geospatial decision-support tool. Following this integration, the OPC and California will be better prepared to:
Better understand and mitigate the impacts from sea level rise
Evaluate sites for renewable ocean energy and aquaculture projects
Better understand sediment transport and sand delivery
Ensure vessel safety
Help identify tectonic faults and fault dynamics
Forecast storm inundation and coastal erosion
Better understand coastal earthquakes and tsunami potential
More effectively regulate offshore coastal development
Contribute to the federal process of Marine Spatial Planning
Quantify cumulative impacts for different activities in the same location
Identify key habitats that should be prioritize for protection
For example, the OPC funded a study to project inundation and erosion impacts from future sea level rise; however, the mapping data available for this project was less than optimal. In the future, such data will be readily available to anyone and will set the stage for a better understanding of our coastal and marine environment and how humans interact with this landscape.