News
Director Halberstadt Issues Statement on Signing of Bills Protecting Marine Environments
Sacramento – Ocean Protection Council (OPC) Executive Director Deborah Halberstadt released the following statement after Governor Brown signed into law two bills designed to protect our oceans and marine environments: SB 1363 (Monning) and AB 2139 (Williams).

"Although ocean acidification is a global phenomenon, the West Coast will face some of the earliest, most severe changes. These bills underscore the importance of taking action now on a local scale in California. OPC is ready to take action, as directed in these bills, and work with our network of partners on a federal, state, regional and local level to ensure that we safeguard our unique coastal ecosystems for the impacts of ocean acidification. We appreciate the leadership of the legislature, Secretary Laird, and the Governor in addressing such a critical issue facing not just California's coast, but the entire West Coast and global ocean."

SB 1363 highlights actions that can be taken at the local and regional levels to combat the global challenge of ocean acidification through eelgrass restoration and protection. AB 2139 incorporates many of the recommendations from the West Coast Ocean Acidification & Hypoxia Science Panel report released earlier this year and tasks Ocean Protection Council staff with monitoring and yearly reporting on progress and next steps. Both SB 1363 and AB 2139 elevate the issue of ocean acidification and hypoxia (OAH) within our legislature for the first time.

The Ocean Protection Council works to ensure that California maintains healthy, resilient, and productive ocean and coastal ecosystems for the benefit of current and future generations.

Several other leading voices in the ocean protection community expressed their support of the legislation.

"Today California took a giant step forward in confronting the threat of ocean acidification to the state's ocean and coastal communities. This new legislation will ensure that the best science is brought to bear to reduce impacts, plan for change, and demonstrate that concrete action now can help protect the ocean's vital services for all Californians in the future. We commend the leadership of the legislature, Secretary Laird, and Governor Brown in charting a path forward for a healthy ocean future." – George H. Leonard, PhD, Chief Scientist at Ocean Conservancy

"These bills enable California to be the first of the west coast states to adopt broad-based actions stemming from the West Coast Ocean Acidification and Hypoxia Science Panel's report, which in turn builds on the state's leadership in establishing two unique and innovative California ocean institutions, the Ocean Protection Council and the Ocean Science Trust, who played pivotal roles in convening the Panel." – Margaret Spring, VP of Conservation & Science and Chief Conservation Officer at Monterey Bay Aquariu

###

Media Contact:

Sam Chiu, Communications Director, California Natural Resources Agency (916) 651-7585, sam.chiu@resources.ca.gov

 September 30, 2016
Western States Fight Ocean Acidification
Dan Haifley, Our Ocean Backyard. Santa Cruz Sentinel, Oct.8, 2016.
Secretary or Natural Resources, John Laird, and his counterparts in Oregon, Washington and British Columbia convened an Ocean Acidification and Hypoxia science panel in collaboration with the Ocean Protection Council and Ocean Science Trust. Read more…
West Coast Ocean Acidification & Hypoxia Science Panel Releases Executive Summary
The West Coast Ocean Acidification & Hypoxia Science Panel, comprised of 20 leading scientists, was charged with presenting the current state of knowledge and developing scientific consensus about available management options to address ocean acidification and hypoxia on the West Coast. The Executive Summary, accessible at westcoastoah.org, includes key findings, recommendations and actions that cross a range of disciplines and have the potential to be implemented now to address ocean acidification and hypoxia along the West Coast. READ the press release for more info.
Fishery Bulletin: Ecological Effects Of Bottom Trawling On Fish Habitat Along The Central California Outer Continental Shelf (Lindholm et al.)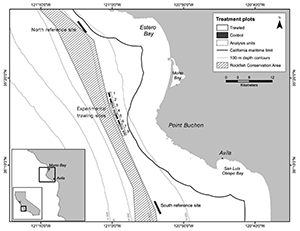 A collaborative research study funded in part by the OPC, conducted by California fishermen, The Nature Conservancy and CSU Monterey Bay found negligible effects to the seafloor in certain types of "soft" sea bottom (primarily mud and sand) on the continental shelf off central California when using small footrope trawl gear. This study adds to a growing body of literature from around the world showing trawling impacts are context dependent—they depend on the type of gear used, the types of habitats trawled and how often trawling occurs. For more information please read the peer reviewed study here. The study does not imply that all soft-bottom habitats should be open to trawling but that, with new research and technology – there are mechanisms to fine-tune fishery regulations to protect vulnerable habitats while also help to sustain local commercial fisheries.
California Coastal Commission Report on Fukushima
The California Coastal Commission recently developed a report investigating the release of radioactive materials during the March 2011 Fukushima Dai-ichi Nuclear Power Plant in Japan and the implications for residents of California. Staff findings include extremely low levels of Fukushima-derived radionuclides detected in California relative to pre-existing sources of radionuclides, and the need for more information about long-term effects of low-level radiation in the environment.
California Ocean Protection Council Announces West Coast Ocean Acidification and Hypoxia Science Panel
California and Oregon are joining forces to help address ocean acidification and hypoxia, a West Coast-wide threat to our shared marine and coastal ecosystems. The California Natural Resources Agency, on behalf of the California Ocean Protection Council (OPC), today signed a Memorandum of Understanding with the state of Oregon to jointly sponsor a high-level science panel to help address the issue of ocean acidification and hypoxia.  The West Coast Ocean Acidification and Hypoxia Science Panel will provide state-level decision makers with the knowledge needed to evaluate and develop action plans for these complex issues. The science panel will also identify the research and monitoring needed to contribute to a West Coast-wide assessment of ocean acidification and hypoxia, and address information and data gaps critical to resource management decisions.
Thank You Ocean Report: California Sustainable Seafood
Red fish – Blue Fish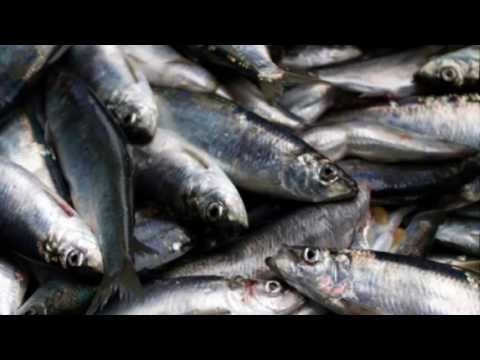 When was the last time you ate seafood? Do you know where the seafood came from, how it was caught, and whether it was from a sustainable fishery? Purchasing sustainable seafood helps to support our local coastal communities while also addressing overfishing, environmentally destructive fishing methods, and seafood fraud. We talked with Valerie Termini, project manager at the Ocean Protection Council. The California Ocean Protection Council will be working with fishermen and the seafood industry to create a sustainable seafood certification program for seafood caught in California waters.
Older Posts »
Quick Links
About
Programs